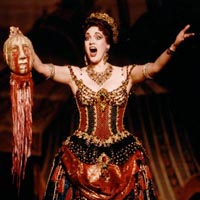 Teaching Philosophy
Singing is a complex coordination of breathing, phonation, resonation and articulation, overlaid with musical and performance layers. This process needs to be guided by an instructor who is knowledgeable in the vocal processes and anatomy, as well vocal styles and performance.

Vocal development progresses as the body strengthens and growing musical skills demand more from the vocal instrument. With proper guidance and that valuable "extra ear" that I can provide, we'll work together to find your true voice. This voice works freely to express the musical and emotional demands of the literature, allowing the joy of performance to burst free.
I subscribe to the philosopies of Jeannette Lovetri's Somatic Voicework™ The LoVetri Method, which state:

The vocal mechanism needs to be strengthened and made flexible in order to work optimally.
The process is best done slowly and gradually with an eye and an ear to detail.
Singing is a craft, learned as a physical skill, increasing in virtuosity as the physical body strengthens and the voice coordinates with it.
Healthy, free singing requires good posture (alignment).
Proper breathing requires strong upper body and abdominal muscles.
Singing requires strength and coordination in both the ribs and the abs together to sustain the pressure of air during exhalation.
The purpose of functional vocal training is to prepare the physical instrument to stand up to full, free expression of emotion through text and music.
The primary goal of singing training is functional freedom of sound-making in any application.
---
Please contact Barbara Scanlon by email (barbjscanlon@gmail.com) for more information.
---
© 2016 Barbara Scanlon barbjscanlon@gmail.com